Chair Chaude translated in English by Christiane P. Makward, Associate Professor of French and Women's Studies, Pennsylvania State University and Judith G. Miller, Professor of French, University of Wisconsin-Madison.
University of Michigan Press, 1994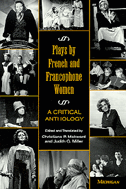 Plays by French and Francophone Women presents eight recent plays by contemporary French and francophone women writers. The plays vary in style and form from the satirical to the poetic, from the comedic one-woman show to the potential multi-media esoteric production, and have been written by French, Qué becois, Acadian, and Caribbean francophone writers. The editors have provided informative headnotes to introduce each play, then faithful translations rendered with an ear toward production in English. A general introduction to the volume situates each work within the broader context of contemporary French-language theater by women. The volume also includes an annotated bibliography by Cynthia Running-Johnson of thirty-one additional plays by women in French.
Featured plays and playwrights are:
The Scent of Sulphur by S. Corinna Bille;
When Fairies Thirst by Denise Boucher;
Island Memories by Ina Césaire;
Warmth: A Bloodsong by Chantal Chawaf;
The Goddess Lar or Centuries of Women by Andrée Chedid;
The Name of Oedipus: Song of the Forbidden Body by Hélène Cixous;
The Table: Womenspeak by Michèle Foucher;
and The Rabble by Antonine Maillet.
"It is the great merit of this anthology to bring to light eight remarkable plays by contemporary French and francophone female playwrights. They illustrate the multicultural creativity of women and I am certain that such a text will contribute to a better understanding of women's literary discourse."