Redemption
Translation in English by Monique F. Nagem,
Dalkey Archive Press, 1992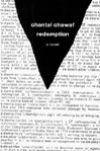 I. Birth
" As night fell, Charles became a vampire. He stared at the full moon. His figure was outlined like a black shrub against the high walls, and the shadows formed by his limbs and his trunk were moving over the rocky path that snaked its way toward hell. He has given up on the idea of kissing Esther, of holding her in his arms; he has given up on the idea of mingling his warm marrow with the shivering plant offering itself up to his mouth. Once again he tightly clenched his jaws on the resentment, on the bitterness. He is now ready to spit it back out, to throw it up. He chooses to wander, alone, in the darkness of the steep path from which he can only glimpse the distant lights of the frantic race toward the animated bedrooms still containing couples, the hope which he, this deeply wounded man, will never again experience in the slightest, even as an illusion. He has killed her."
In "redemption" French feminist writer Chantal Chawaf explores the dark paths of madness and sadism, where sexuality evokes cannibalism and vampirism. The language of the body and the body of language are stripped naked in Chawaf's violently beautiful prose as she mounts this terrorist attack on the age-old theme of redemption through love.
The novel was partly inspired by the author's visits to Canada and the United States over the pasr six years, it is on this vast American continent, whose wild and tameless beauty Chawaf brilliantly evokes, that Charles de Roquemont, the protagonist of the novel, savagely kills his lover, Esther, in a fit of impotent madness. A few years later, back in Paris, Charles' sexual instincts are reawakened by a screenwriter, Olge Vassilieff, whom he meets one sultry summer night in Monceau Park.
The plot, however, is not Chawaf's only concern. As in her other novels, Chawaf manipulates, kneads, impales, and honey-combs her language to create a masterful allegory of her literary theories and linguistic concepts. The result is a novel that is both cerebral and sensual, both intellectual and visceral.